Scura, Wigfield, Heyer, Stevens & Cammarota Blog
New Jersey Motorcycle Accidents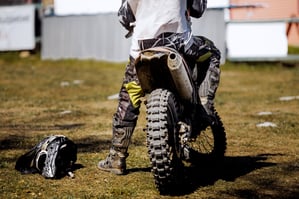 While the thrill of riding motorcycles is second-to-none, the risks associated with operating a motorcycle are evident. Those risks are generally unrelated to trained motorcyclist operating a bike in a safe manner, but instead are associated with the potential negligence of individuals driving automobiles on the same roadways. While wearing helmets, protective clothing, and safe riding techniques do reduce the risks, bikers are simply more prone to serious injuries. In fact, the National Highway Traffic Safety Administration states that motorcyclists are 28 times more likely to die in a collision. From 2011 to 2015, there have been over 12,000 crashes in New Jersey involving motorcycles. In 2015, there were 2,300 motorcycle accidents in New Jersey, which resulted in 49 fatalities.The most common injuries sustained in motorcycle collisions are skull, spine, elbow, leg, wrist and arm fractures, tendon and ligament damage, brain injuries, internal organ damage, and soft tissue injuries such as herniated discs.
This blog will focus on motorcycle insurance, liability, and their relationship with New Jersey law.
Motorcycle Insurance
When it comes to motorcycles, there is no such thing as too much insurance. Automobile insurance does not extend coverage to motorcycles, because there is a substantial risk differential between a motorcycle and an automobile. Under New Jersey law, the minimum motorcycle liability insurance a biker must carry is $15,000.00 per person and $30,000.00 per accident. However, this legal minimum is not enough to cover any serious accident and you should always seek substantially higher liability insurance coverage. I recommend at least $250,000.00 of liability insurance coverage.
As you may notice on your automobile insurance coverage, you will likely have Personal Injury Protection, also know as "PIP" coverage. PIP coverage generally pays the costs associated with medical treatment following an injury. Under New Jersey law, to qualify for PIP benefits, the name insured or family member claimant must show that he or she was injured in "an accident" that occurred "while occupying, entering into, alighting from or using an automobile." N.J.S. 39:6aA-4; 39:6A-3.1; and 39:6A-3.3. While passengers involved in car accidents can typically access their own automobile PIP coverage, even if they weren't driving and a passenger in a friend's automobile, a motorcyclist does not have the same luxury.
Under New Jersey case law a motorcycle, by itself, is outside the definition of an automobile. Therefore, a motorcyclist will not be covered under an automobile PIP policy. See Ingresoll v. Aetna Cas. & Sur. Co., 138 N.J. 236, 238 (1994). Thus, when shopping for motorcycle insurance, you may find an insurer that offers optional limited medical coverage. Generally, medical insurance for motorcyclists is called "med-pay", instead of PIP", and it usually cover up to $25,000.00 of medical expenses. However, the first recourse for most motorcyclists is to use their private healthcare coverage. If you do not have private health insurance, you should seriously consider med-pay. If your injuries meet a threshold of severity, you may also be able to recover medical costs during the personal injury lawsuit.
In addition to having high liability insurance limits, it is also equally important to maintain high uninsured (UM)/underinsured(UIM) limits. This coverage kicks in when a negligent driver who injures an individual doesn't have insurance, or the coverage limits are too low to compensate the injured party. For example, let's say you're severely injured in a motorcycle accident, but the individual that hit you has the minimum required insurance policy, or worse, no insurance policy. In that case, you will need to go through your own insurance. You want to ensure you have enough insurance coverage to cover your damages, including costs of repairing or replacing your motorcycle. I recommend at least $250,000.00 of uninsured and underinsured coverage.
Lastly, I highly recommend that motorcyclists confirm that their private health insurance covers motorcycle accidents. Some private insurance companies provide limited coverage for motorcyclists, so it's important to make sure that you're sufficiently covered in the event of an accident.
Motorcycle Liability
In some motorcycle accidents, fault of the accident can be difficult to prove. That is why our firm takes great pride in accident reconstruction, which includes consulting with leading engineers and experts. However, New Jersey motorcycle law can still affect your personal injury case.
For example, New Jersey Helmet Law PL. 39:3-76.7 provides that "[n]o personal shall operate or ride upon a motorcycle unless he wears a securely fitted protective helmet of a size proper for that person and of a type approved by the Federal DOT. Such a helmet must be equipped with either a neck or chin strap and have reflectors on both sides."
New Jersey is a considered to be a "comparative negligence" jurisdiction. This means that when a plaintiff sues for injuries sustained, the defendant can assert that the plaintiff is partially or fully responsible for causing their own injuries. For example, if a plaintiff claims a head injury, the jury could conclude that the plaintiff's failure to wear a proper helmet under New Jersey law caused the injury to be more severe and the defendant should not be responsible for those severe damages. Likewise, failure to adhere to state traffic and protective gear laws could limited the potential recovery by a plaintiff.
Likewise, New Jersey also enacted several safety provisions for new motorcyclists. Two highlights include: (1) low-speed motorcycles are prohibited on limited-access interstate highways or public roads or highways with posted speed limits of 35 mph; and (2) riders with a motorcycle permit are prohibited from riding in the dark, carrying passengers, and riding on toll roads or on limited access highways. Breaking the law could affect your potential recovery in a personal injury lawsuit.
CONCLUSION
Some of the most common types of motorcycle accidents are caused by lane splitting, road hazards, equipment defects, and the negligence of other drivers. If you have suffered injuries in a motorcycle accident or suffered the wrongful death of a loved one because of someone's reckless or negligent conduct, you may be entitled to compensation. It's important to pick an attorney with experience in motorcycle accidents. Please call our firm to schedule a free case consultation.

NJ Attorney with extensive experience on Bankruptcy Law Real Property Law, Litigation, and Immigration Law. Dedicated Associate Attorney at Scura, Wigfield, Heyer, Stevens, & Cammarota LLP.
Share Article
Need Help? Contact Us Today!