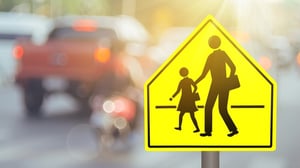 Because of its dense population and busy streets, the City of Hoboken is a dangerous place for unwary pedestrians, bicyclists and drivers with many personal injuries occurring as the result of accidents. The City of Hoboken is one of the most densely populated cities in the United States. As of the Census of 2010, Hoboken had over 50,000 residents. Hoboken is small in geographical area and is also known as the "Mile Square" city. Technically, its geographic area covers a little more than 2 miles, but cramming 50,000 residents into this small an area leads to severe congestion and dangers for both pedestrians and riders of bicycles.
The City of Hoboken is also a major transportation HUB serving as the main area to and from New Jersey into Manhattan. Thus, in addition to its dense population you have an extremely busy rush hour with persons all over the tri state area commuting into Manhattan. Our firm has represented many pedestrians and riders of bicycles being hit by cars with the accidents being caused by driver inattention. Furthermore, because of more driver inattention with cell phones on the part of both drivers of automobiles and pedestrians an increase in accidents has occurred.
The City of Hoboken has also since 2011 increased designated bike lanes to promote the use of bicycle and make it safer for bicyclists. Hoboken is especially dangerous for bicyclists as well due to the congestion and high volume of commuters. The streets are also not in the best condition, are in disrepair and have many pot holes. Moreover, there is constant construction in Hoboken with heavy machinery and wear and tear on the streets and sidewalks. The City of Hoboken has a published bike map of its city for bicyclists. With the increase of bicyclists there is the potential for collisions between bicyclists and pedestrians in Hoboken so both must be wary of each other.
New Jersey has a specific statute on the duties of pedestrians and drivers. The Courts also use a model jury charge in trials involving these claims. The Model Jury Charge provides as follows:
"5.32C Duty of Drivers and Pedestrians Crossing at Marked or Unmarked Crosswalk
In addition to considering the general duty I have just described (Model Civil Charge 5.30 G-2), you are required to consider the following statutory provisions that involve pedestrians crossing at marked or unmarked crosswalks which are part of our New Jersey Motor Vehicle Act. They are referred to in N.J.S.A. 39:4-36 which provides, in part that the driver of a vehicle shall yield the right of way to a pedestrian crossing the roadway within a marked crosswalk or within any unmarked crosswalk at an intersection.
The driver of a vehicle shall stop and remain stopped to allow a pedestrian to cross the road within a marked crosswalk when the pedestrian is upon, or within one lane of, "half of the roadway" upon which the vehicle is traveling or onto which it is turning. Half of the roadway means all traffic lanes conveying traffic is one direction of travel, and includes the entire width of a one-way roadway.
No pedestrian shall leave a curb or other place of safety and walk or run into the path of a vehicle which is so close that it is impossible for the driver to yield or stop.
In the event of a collision between a vehicle and a pedestrian within a marked crosswalk, or at an unmarked crosswalk at an intersection, there shall be a permissive inference that the driver did not exercise due care for the safety of the pedestrian."
Safety Tips for Drivers To Avoid Pedestrian Accidents in Hoboken
Be on high alert for pedestrians walking in crosswalks and crossing streets, even where you have a green light because the pedestrian crossing the same street may also have the clearance to walk.
Be prepared to stop when turning or entering a crosswalk or intersection.
Always slow down or stop at the crosswalk stop line to give drivers in other lanes an opportunity to see and yield to the pedestrians also.
Exercise caution when backing up and check behind your car before getting in – pedestrians, especially young children, can move across your path.
The signage and signals are not clear on all streets in Hoboken so do not rely entirely on them and take particular care
Safety Tips for Pedestrians to Avoid Accidents in Hoboken
On Hoboken street corners follow the signals, cross at crosswalks or intersections and not the middle of the block.

Before crossing, obey lights, signs and signals.

On corners, understand that the parked cars create a barrier that make it difficult for drivers of cars to see you
Stay off of your cell phone while walking in the street – you want to be conscious of your surroundings and this is not the time to be texting or talking on a cell phone.
Try to make eye contact with drivers as they approach. Never assume a driver sees you.
Make sure you look left-right-left before crossing a street.
With bicycles, the City of Hoboken has published safety rules to make riding safer for bicyclists and others. In its highlights of rules, it directs cyclists to (1) ride in the direction of traffic, not against it; (2) stop for pedestrians at crosswalks; (3) stop at stop signs and red lights; (4) use marked bike lanes if riding under the speed limit; (5) yield to pedestrians and ride no faster than pedestrian walking speed while riding on sidewalks; (6) use safety and visibility equipment: front white light, red rear reflector, and bell (7) wear a helmet always.
Insurance Law in the Area of Pedestrian and Bicycle Accidents is Confusing
If you are injured in a pedestrian or bicycle accident by an automobile in Hoboken or anywhere in New Jersey, the insurance law is complicated and confusing. Even though you are a pedestrian or bicyclist and hit by a car, the personal injury protection coverage under your own automobile policy may have to pick up the medical expenses. Thus, you must notify your own automobile insurance carrier and set up a Personal Injury Protection claim and fill out their forms.
If you have no auto or health insurance you may be entitled to coverage from the state funded New Jersey Property-Liability Insurance Guaranty Association (PLIGA). There are strict time frames for obtaining insurance coverage under PLIGA so you have to make sure your claim is timely filed. You must fill out the PLIGA form and it must be filed within 180 days. You should contact a lawyer immediately to help you navigate through these legal issues if you are involved in a pedestrian or bicycle accident.