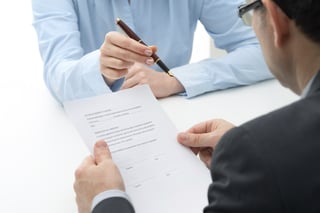 Small Business Administration (SBA) loans are no different than other debt and are dischargeable in business bankruptcy. A misperception exists that SBA loans are not dischargeable. SBA loans are entitled to no special priority under the Bankruptcy Code. SBA loans are backed by the government so that when there is a default the loan is insured as to the bank that gave the loan to the borrower. Because the loan is insured, however, does not mean that the borrower cannot wipe it out in a bankruptcy.
Determine What Assets are Secured by the SBA Loan
You need to review the SBA paperwork you received at the time you took out your SBA loan. Many times, the lender will take out a blanket lien against all of the debtor's property. The lien may only be against the business assets, but may also be a lien against personal assets of an individual involved in the business. An SBA loan will usually involve personal guarantees so the individuals of the business will typically be responsible.
You have to also analyze whether the lien can be avoided or stripped off of property when dealing with business bankruptcy. This is usually dependent upon the value of the collateral that backs up the loan. A blanket lien is not a judicial lien and will not be able to be avoided under Section 522 of the Bankruptcy Code.
Carefully Analyze Strategy to See If the SBA Loan Can Be Restructured or Modified in Bankruptcy
In a Chapter 11 or potentially a Chapter 13 reorganization plan, the SBA loan may be able to be restructured or modified. You have many creative tools to restructure these business loans under the bankruptcy code.
In a Chapter 7, if you are just trying to wipe out the SBA loan, you are certainly entitled to discharge the debt. Contact a New Jersey business bankruptcy attorney to see what options are available to best strategically deal the SBA loan.