Scura, Wigfield, Heyer, Stevens & Cammarota Blog
Understanding and Winning Your Trip-and-Fall or Slip-and-Fall Personal Injury Case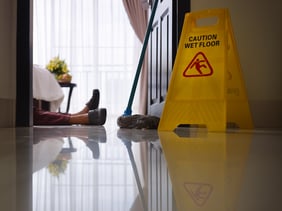 One of the most common personal injury actions relate to an individual losing their balance and subsequently suffering injuries from a fall. Generally, when a fall occurs you can't help but ask yourself, did I trip on something? Did I slip on something? While the distinction between a trip and slip may seem nonsensical, the legal distinction is important for a successful personal injury action. This blog will explore the differences between a slip-and-fall and trip-and-fall case, and how to obtain a successful outcome
According to the National Safety Council, in 2016, 34,573 people died in falls, and falls were the third leading cause of unintentional injury related deaths over all age groups, but was the #1 cause of deaths for those 65 and older. Moreover, falls are the leading cause of nonfatal preventable injuries treated in hospitals. According to the All Injury Program, more than 8.5 million people were treated in an emergency department for fall related incidents in 2017.
With regards to workplace falls, according to 2014 published data from the Bureau of Labor Statistics, 261,930 private and government workers missed one or more days of work due to falls and 798 workers died from such falls. The National Institute for Occupational Safety and Health states that the construction industry experience the highest rate of fall related deaths, while the high rate of non-fatal injuries continue to be associated with health services and wholesale and retail industries. The financial costs of occupational fall incidents are estimated at $70 billion annually in the United States. This generally comprises of workers' compensation and medical costs.
Slip and Fall Accidents
New Jersey case law provides that "in general, business owners owe to invitees a duty of reasonable or due care to provide a safe environment for doing that which is in the scope of the invitation." Prioleau v. Kentucky Fried Chicken, Inc., 434 N.J. Super. 558, 570 (App. Div. 2014), aff'd as modified and remanded, 223 N.J. 245 (2015). "The duty of care requires a business owner to discovery and eliminate dangerous conditions, to maintain the premises in safe condition, and to avoid creating conditions that would render the premise unsafe." Id. "Such a duty is imposed because business owners are in the best position to control the risk of harm." Id.
In either a slip-and-fall or trip-and-fall case, the injured plaintiff must establish a dangerous or defective condition that the defendant created or had actual or constructive knowledge of, and that such condition proximately cause the accident. The plaintiff must establish the causal connection between the condition and the injuries for which recovery is sought.
Slip-and-fall accidents occur as a result of a slippery substance on the ground, which reduces friction between the walking surface and your feet. Generally, the most common substances include water, ice, spilled items, and small rounds objects. Most frequently, the individual falls backwards due to your leading foot loosing traction to the walking surface. Since the body generally falls backwards, the most common injuries include: (1) injured to the back of the head (such as a concussion), (2) neck injuries; (3) back injuries (particularly herniated spinal discs); (4) hip injuries; and (5) wrist injuries.
Trip and Fall Accidents
A fixed object or uneven surfaces generally cause trip-and-fall accidents, which can result in serious and permanent injuries. A trip-and-fall may occur due to a broken sidewalk, placed items left on a floor, or door jams. The physics of a trip and fall are different from a slip and fall. In these cases, your lead foot gets caught on the obstacle, then you lose your balance and generally fall forward. Common injuries related to trip and fall accidents include: (1) hand and wrist injuries; (2) elbow injuries; (3) knee injuries; (4) ankle injuries; and (5) torn ligaments and tendons. If the individual is unable to stop themselves with their hand, then facial injuries are also common.
Preparing for a Personal Injury Fall Action
The first question that an attorney will ask is the location of the fall. This is important in determining the standard of care the property owner has to the individual. The highest duty of care is owed by commercial properties. Commercial property owners are required to make regular inspection to discover hazards and take reasonable steps to remedy those hazards. Likewise, commercial property owners owe a duty to warn visitors of existing hazards until the issue is remedied. Residential properties present entirely different issues and the analysis is case-by-case. The duty of a residential owner of property is not as clear cut as a commercial property owner.
Defense attorneys will argue that the property owner did not have a duty to the injured party, was not reasonability aware of the issue, didn't have a reasonable amount of time to cure the defect, or that the injured party was responsible for their own injuries. Accordingly, it's important to gather evidence quickly.
Here are some helpful tips that will assist your attorney in obtaining the highest potential recovery in your case.
If you are injured, it's important to immediately seek medical attention. Get to the hospital as quickly as possible. It is difficult to prove direct causation to the accident as the time goes by. You need to document the injury through medical evidence. Likewise, if you are required to go to physical therapy, it's important that you attend all PT sessions.
If there are any witnesses to the accident, it's important to obtain their contact information. Likewise, if there is an opportunity to complete an accident report, do so immediately and obtain a copy of the report.
If possible, take any pictures of the scene, even if it's with your cell phone. Make sure to capture any objects, spills, or anything that could have contributed to your fall. Take pictures from several angles and distances if possible.
If you have been involved in a slip-and-fall or trip-and-fall accident, please call our firm to discuss your case and any options that you may have. Our firm offers free consultations and we would be happy to discuss your potential case with you.

NJ Attorney with extensive experience on Bankruptcy Law Real Property Law, Litigation, and Immigration Law. Dedicated Associate Attorney at Scura, Wigfield, Heyer, Stevens, & Cammarota LLP.
Share Article
Need Help? Contact Us Today!