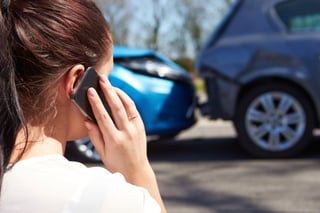 Being involved in a car accident can be extremely emotional. A car accident occurs quickly and the victim may be overwhelmed with questions from the other drivers, police officers, and medical personal. In fact, I have heard from multiple victims that they did not realize they were injured until after their adrenaline from the accident had ceased. Notwithstanding, if you are involved in a car accident, this blog will outline five common mistakes victims make following the accident.
#1 Failing to Report the Accident to the Police and the Insurance Company
Documenting a car accident is imperative to the success of a personal injury claim. No matter the extent of the damages to the car or injuries sustained, it is important that you insist that a police report be filed and insurance information be exchanged. The police report is an objective record of the incident and may become a vital piece of evidence at trial. Always be sure to get the other driver's name, address, phone number, driver's license number, license plate number, insurance company, and policy number.
#2 Admitting No Injuries
If you are asked by a police officer or driver about injuries, avoid stating you are fine. Misjudging injuries is a common mistake following an accident. For example, a former client had injured his knee by hitting it against the dashboard following a car accident. Although he was limping after the accident, his adrenaline from the accident made him believe it was simply a bone bruise. Shortly thereafter, the pain increased and following an MRI, the client had torn his meniscus. Similarly, it's important to have your doctor assess you as soon as you begin to feel pain or discomfort. This will assist your attorney in establishing a clear record for trial. A victim does not want to explain why it took months to see a doctor after a car accident.
#3 Admitting Fault
Never apologize or state to the opposing driver or police office that the accident was your fault. This will be considered an admission of guilt and could substantially affect any potential recovery for injuries sustained. The statement admitting fault could be introduced at trial.
#4 Waiting
If you believe you require medical attention for injuries, you should immediately seek assistance, no matter how minor the accident. Likewise, there is a limited amount of time to pursue a claim after an accident. It's important to contact an attorney as soon as possible, so he or she can evaluate your claim and ensure you are protected.
#5 Providing a Recorded Statement
Following an accident, the victim will likely receive a call from the insurance company requesting a recorded statement. The insurance company may be requesting the recorded statement in order for the victim to admit fault or to contradict themselves in a later statement. It is best to hold off on providing a recorded statement until you have spoken with an attorney. If the attorney consents to providing a recorded statement, they can prepare the victim to ensure a clear and accurate statement to the insurance company.
If you or a member of your family has been in a serious car accident, please call and speak with one of our experienced personal injury attorneys for a free consultation.