Scura, Wigfield, Heyer, Stevens & Cammarota Blog
What Happens When Only One Spouse Files for Bankruptcy in New Jersey?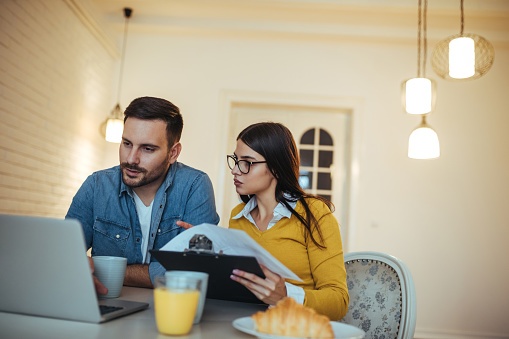 If you are married and considering filing for an individual bankruptcy, you may be wondering what effect the bankruptcy will have on your wife. This blog will explore those issues.
A Bankruptcy Proceeding Only Discharges The Obligation Owed By The Debtor
When filing for bankruptcy, you may have a credit card or a car where multiple individuals are liable on the obligation. The bankruptcy will only discharge your personal obligation to a creditor. It will not discharge the debt of another individual who is also liable on that obligation. Since your co-debtor on an obligation will be affected by the bankruptcy due to your impending discharge, they must be listed on the bankruptcy petition. A creditor could still take action against your co-debtor to collect on the obligation owed despite your bankruptcy filing. Therefore, if you are jointly liable with your spouse on the bulk of your debts, it is often in your best interest to file a joint bankruptcy proceeding.
Effect Of Bankruptcy On Jointly Owned Property
In many instances, married couples own their home jointly. This means that each spouse is a fifty percent owner on the home. A bankruptcy proceeding will discharge your personal liability on the mortgage. However, a trustee will likely investigate to determine if there is any equity in the real property above the liens on the real property, the allowed bankruptcy exemptions that can be used on real property and projected cost of sale. The term bankruptcy exemptions refers to a section of the bankruptcy code that permits you to exempt certain assets from collection in the bankruptcy process. If there is remaining equity in property, then a trustee is likely to attempt to sell the property towards a distribution to creditors. In the case of an individual filing for bankruptcy who co-owns the real property with another individual such as a spouse, the trustee must pay that individual their equity portion in the real property. Also, the trustee must file an adversary proceeding to allow the sale, if the non-filing individual does not consent to the sale pursuant to Section 363(h) of the Bankruptcy Code.
An adversary proceeding is a litigation that is under the jurisdiction of the bankruptcy court. The trustee would need to prove that it would not be practical to divide the property amongst the owners, the sale of your undivided interest in the property would yield significantly less than a sale of the whole, the benefit to your bankruptcy estate outweighs the detriment to any co-owner and that the property "is not used in the production, transmission, or distribution, for sale, of electric energy or of natural or synthetic gas for heat, light, or power" to prevail in the adversary proceeding.
Get Help with Bankruptcy In New Jersey
If you are considering filing for bankruptcy in New Jersey or are impacted by another individual's bankruptcy case, it is important to contact an experienced New Jersey bankruptcy attorney to guide you through your options and present you with the potential pitfalls. For questions regarding a potential bankruptcy, call the law firm of Scura, Wigfield, Heyer, Stevens & Cammarota, LLP for a free consultation.
Whether you need to completely eliminate your debt through Chapter 7 bankruptcy, or need to reorganize your credit payments through Chapter 13 or Chapter 11, we are well qualified as a full-service bankruptcy law firm for people in these and other New Jersey counties: Passaic County, Hudson County, Essex County, Bergen County, Morris County, and Sussex County. Call us today at 973-870-0434 or toll free 888-412-5091.

Prior to joining Scura, Wigfield, Heyer, Stevens & Cammarota, LLP, David Sklar graduated from Rutgers University-Newark School of Law with a J.D., Cum Laude. Mr. Sklar was the recipient of a Pro Bono Award and was honored by the New Jersey Bar Association for his commitment to the Street Law Program by being awarded the Street Law Prize.
Share Article
Need Help? Contact Us Today!