Scura, Wigfield, Heyer, Stevens & Cammarota Blog
What to Do After You Decide to File for Bankruptcy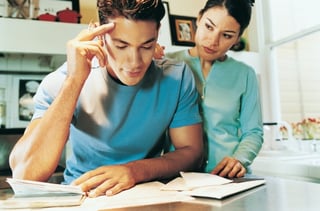 In many instances, the decision to file for bankruptcy is one of the most difficult decisions that you will ponder in your life. Once you have made the decision to file for bankruptcy, you will need to adjust your life accordingly. This blog will explore some examples of typical financial considerations that must be taken into account prior to filing for bankruptcy.
You Can No Longer Use Your Credit Cards
One of the first things that you will need to do upon making the decision to file for bankruptcy is to cease using your credit cards, if you have not done so already. Every time that you use a credit card, you are incurring debt. Therefore, if you continue to use your credit cards after making the decision to file for bankruptcy, then you will be incurring debt with no intention to pay it back (assuming that the incurred debt is not repaid). This type of activity constitutes a fraudulently incurred debt. In many instances, the trustee will ask you directly about when the last time you used a credit card occurred.
Continue To Pay Your Ongoing Expenses
Many people may think that making the decision to file for bankruptcy relieves them from paying their ongoing living expenses. However, this could not be further from the truth. In order to continue living in your residence, you will need to continue to stay current on your rent or mortgage payment. You would be able to discharge your ongoing lease or mortgage monetary obligations in the bankruptcy; however, the lessor or mortgage holder will be able to either evict or foreclose on you if the amounts that they are owed do not remain current. The reason for this is that you cannot discharge a secured creditor or lessor from their secured rights in property. Other things that must continue to be paid include your utility payments, ongoing cable bills and ongoing car payments (if you want to keep your car).
Keep Good Records
Upon filing for bankruptcy, you will be forced to provide documentation concerning your financial records to the Trustee, so that he or she can properly investigate your case. The standard documents that must be sent to the Trustee are your last six months of paystubs, last six months of bank statements and your last two filed tax returns. However, the Trustee's investigation is not limited to those documents. The Trustee has an extremely wide rope in terms of what he or she can ask for relating to your financial affairs in order to complete the investigation into your case. Therefore, it is important that you keep sound records to be able to provide documentation upon request. Failure to provide requested documentation to allow the Trustee to conduct an investigation into your financial affairs, can cause you to not be given a bankruptcy discharge pursuant to 11U.S.C. 727(a)(3).
Contact an Attorney When You Decide to File for Bankruptcy
If you decide to file for bankruptcy, it is important to contact an experienced bankruptcy attorney to guide you through the process and help you assess your options in light of your situation. If you have questions regarding a potential bankruptcy, call the law firm of Scura, Wigfield, Heyer, Stevens & Cammarota, LLP for a free consultation.
Whether you need to completely eliminate your debt through Chapter 7 bankruptcy, or need to reorganize your credit payments through Chapter 13 or Chapter 11, we are well qualified as a full-service bankruptcy law firm for people in these and other New Jersey counties: Passaic County, Hudson County, Essex County, Bergen County, Morris County, and Sussex County. Call us today at 973-870-0434 or toll free 888-412-5091.

Prior to joining Scura, Wigfield, Heyer, Stevens & Cammarota, LLP, David Sklar graduated from Rutgers University-Newark School of Law with a J.D., Cum Laude. Mr. Sklar was the recipient of a Pro Bono Award and was honored by the New Jersey Bar Association for his commitment to the Street Law Program by being awarded the Street Law Prize.
Share Article
Need Help? Contact Us Today!