Scura, Wigfield, Heyer, Stevens & Cammarota Blog
What to Expect at Your 341(a) Meeting of Creditors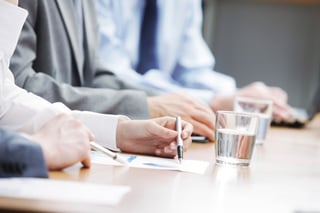 The meeting of creditors, also called the 341 hearing, is a required appearance by all debtors in a bankruptcy case. The debtor's appearance is required pursuant to section 341 of the Bankruptcy Code. Within a reasonable time after the bankruptcy case is filed, the United States trustee will convene and preside at a meeting of creditors. See, 11 U.S.C. §341(a). Normally, the meeting takes place approximately 30 days after the bankruptcy petition is filed. There is no judge at the meeting of creditors, although the debtor is placed under oath and is asked a series of questions. The meeting usually takes 10 minutes but can vary depending on the complexity of the case. Debtor's counsel is present with the debtor during the meeting.
Who will be There and What will be Asked
Any creditor or representative of the creditor (including their attorney) may appear at the meeting. See, 11 U.S.C. §341(c). In reality creditors and/or their representatives rarely appear. The trustee will run the hearing, which will begin upon the swearing in of the debtor. The meeting is recorded to preserve the case record. After the debtor is placed under oath, the examination will begin. Typical questions include, but are not limited to:
Do you own real estate or have you ever owned real estate?
Are you suing anyone for personal injury or anything else where you expect to receive any money?
Do you expect to receive an inheritance?
Do you have any uncashed winning lottery tickets?
Is your home insured? Is your car insured?
Do you have any life insurance that you could cash out today for money?
Have you transferred property to any friends or family members?
Does anyone owe you any money?
Are you holding onto property that belongs to anyone else?
Did you receive a tax refund? If so, how much?
Are you married? Does your spouse work?
Have you ever owned or do you have any interest in any businesses?
When was the last time you used a credit card?
Where to Go and What to Bring
In New Jersey, the 341 hearing is conducted in a regular room, not a courtroom. In Newark, the northern most federal vicinage in the State of New Jersey, Chapter 7, 11, and 13 meetings of creditors are held at One Newark Center which is an office building less than one mile from the federal courthouse. In Trenton, the middle federal vicinage in the State of New Jersey, Chapter 7 and 11 meetings of creditors are held at the federal courthouse in a regular meeting room, not in a courtroom. In Trenton, Chapter 13 meetings of creditors are conducted at the Chapter 13 Trustee's office, which is less than 10 miles from the federal courthouse. The remaining federal vicinage is located in Camden, which commands the cases that are filed in the southernmost part of New Jersey.
Debtors appearing at their 341 meeting must bring government-issued photo identification, such as a driver's license or passport. Debtors must also present proof of their social security number via a social security card, Medicare card, or W-2. For Chapter 13s, the Trustee will require proof of recent income such as a recent paystub. Bankruptcy trustees can request additional documentation either before or after the meeting including proof of insurance, copies of deeds or mortgage statements, and tax returns.
Retaining a New Jersey Bankruptcy Attorney
If you are seeking representation in a bankruptcy proceeding, retaining a competent attorney is crucial. It is important to choose an attorney that you are comfortable with and whom will answer all of your questions. If you are seeking representation, please give us a call for a free consultation. We have office locations in Wayne, Hoboken, Newark, and Hackensack.
Whether you need to completely eliminate your debt through Chapter 7 bankruptcy, or need to reorganize your credit payments through Chapter 13 or Chapter 11, we are well qualified as a full-service bankruptcy law firm for people in these and other New Jersey counties: Passaic County, Hudson County, Essex County, Bergen County, Morris County, and Sussex County. Call us today at 973-870-0434 or toll free 888-412-5091.
Share Article
Need Help? Contact Us Today!