Scura, Wigfield, Heyer, Stevens & Cammarota Blog
What Types of Accidents Qualify for Personal Injury Compensation?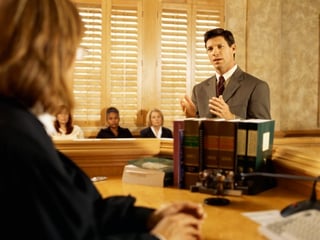 There are many different types of accidents that can qualify for personal injury compensation. If you have been injured in an accident, one of the first things you should do is take the time to consider whether or not someone else is responsible for your injuries. Under personal injury law, if you have been injured in an accident due to a third party's negligent acts you have the right to file a claim to seek damages for a personal injury claim. So how do you know when you have a case and when you don't?
Do Your Injuries Qualify for a Personal Injury Claim?
The first few days and weeks following an accident can be a frightening and painful time. At Scura, Wigfield, Heyer, Stevens & Cammarota we understand that the physical, mental and financial stress that follows an accident can be extremely overwhelming. Our experienced and knowledgeable personal injury lawyers also understand the law and are ready to help guide you through this process. If you or a loved one is suffering from injuries following an accident that could have been prevented by a third party, you may be entitled to compensation.
While financial compensation cannot erase what happened to you, it can help to relieve some of the stresses you have been experiencing so that you can rebuild your life. Some of the most common types of accidents that may qualify for personal injury compensation include:
Auto Accidents
More than 2.35 million people are injured in auto accidents each year and end up costing the US around $230 billion annually. The consequences that follow a car accident can be devastating and while your insurance company may cover some of the damages to your vehicle, you could be left to pay for other damages out of pocket. From medical bills to lost wages, pain and suffering and more –you may be able to sue for damages if someone else is responsible for your injuries.
Pedestrian Accidents
When a pedestrian and a vehicle crash into each other, the vehicle will always come out as a winner. When you are on foot you are absolutely no match for a car, truck or motorcycle. Even if the vehicle that hit you was traveling at a slow speed, chances are that you will walk away with some type of injury. And if more than one vehicle is involved in a crash with a pedestrian, the result may be catastrophic. If you have experienced any of the following injuries in a pedestrian accident, you may qualify for personal injury compensation:
Lacerations

Broken bones
Paralysis
Neck, back or spinal injuries
Head or traumatic brain injuries
Crush injuries
Construction Accidents
Working in construction is one of the most high-risk jobs that a person can have. Even with the best precautions in place, the chances of becoming injured on the job are still very likely. If you or a loved one was injured on a construction site, it is important to work with our skilled personal injury lawyers to determine whether or not you may have a claim. With many years of combined experience and a thorough knowledge of personal injury law, we will work with you to discover who was at fault for your injuries and fight to make sure you are awarded the maximum settlement possible.
Slip and Fall Accidents
Whether they take place while walking on your neighbor's pathway or in the grocery store, slip and fall accidents can cause very severe injuries. If you were injured in a slip and fall accident on someone else's property, you may be eligible to receive personal injury compensation. Even the most cautious individual can become injured in a slip and fall accident, through no fault of their own, so before you hesitate, be sure to speak with one of our personal injury attorneys to see if you have a viable claim.
I Was Injured in an Accident, What Should I Do Now?
After an accident, it is important that you seek medical attention as soon as possible. Some injuries can take days or even weeks to show symptoms and the sooner you get to the doctor the better. Medical records and official police reports can both be extremely helpful in proving who is responsible for your injuries. We also recommend contacting one of our personal injury attorneys as soon as possible so that we can begin work on building your case. Other important steps to consider include:
At the scene, take photos whenever possible. This evidence may come in handy later on.

Even though you may be confused or in shock following an accident, never say sorry to the other people involved. Saying sorry can be seen as an admission of guilt and could possibly harm your claim.
Always collect names, contact information and insurance information for any other party's involved in the accident. Request contact information from any witnesses as well.
Let the other person(s) know that you plan on filing a personal injury and/or property damage claim.
Do your best to write down everything that happens in the days and weeks following the accident. Keep track of important paperwork like medical bills, lost work and wages, hospital visits, etc.
What Type of Compensation Am I Entitled To?
While each situation is different, there is one thing that every accident victim has in common: the fact that your injuries will change your lives forever. Whether you have debilitating injuries, you lost your job or you have medical bills that you cannot afford, personal injury can turn your life upside down.
If you have been injured in an accident, you may be able to seek compensation for the following issues:
Pain and suffering

Chronic health conditions or disabilities
Hospital bills
Financial issues
Lost wages
Medical and rehabilitation costs
Depression and anxiety
A diminished quality of life
And more
Speak with Our Experienced Personal Injury Lawyers Today
If you have been injured in an accident as a result of a third party's negligence, you may be able to seek financial compensation. From auto accidents to slipping and falling on someone else's property, we will work hard to make sure you get the compensation that you deserve. For more information on personal injury claims and to get a free initial consultation, visit the New Jersey attorneys at Scura, Wigfield, Heyer, Stevens & Cammarota online today.
Share Article
Need Help? Contact Us Today!