Scura, Wigfield, Heyer, Stevens & Cammarota Blog
The Role of the Bankruptcy Trustee in New Jersey Chapter 7 & Chapter 13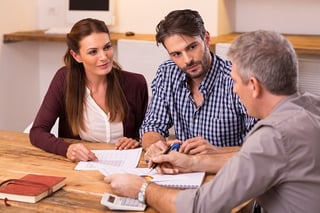 After a person files a bankruptcy petition, they will be assigned a date for their "Meeting of Creditors," also dubbed the "341 hearing." Although bankruptcy debtors will not actually meet with their creditors face to face, they will certainly sit down with a bankruptcy trustee. This article will explain the trustee's role in the bankruptcy process and explain some of the questions debtors will be asked during their meeting.
The Primary Role of Bankruptcy Trustee
Chapter 7 Bankruptcy Trustee
The trustee's primary role is to maintain the integrity of the bankruptcy system. The trustee makes sure that debtors properly disclose assets, and decides whether a discharge would be proper depending on the circumstances. Trustees also administer bankruptcy estates by collecting, liquidating and distributing non-exempt assets in Chapter 7 bankruptcy cases. Essentially, the trustee collects all property not protected under the U.S. Bankruptcy Code, sells it, and distributes the proceeds to creditors.
Chapter 13 Bankruptcy Trustee
In Chapter 13 cases, trustees evaluate debtors' repayment plans and make recommendations to the bankruptcy court as to whether the plan would be fair to creditors. If the plan is approved, the trustee will collect plan payments and distribute them accordingly.
Trustees may also take action against non-attorneys who engage in unlawful practices in preparing bankruptcy petitions, and monitor fees imposed by bankruptcy lawyers.
The Meeting of Creditors
During the meeting of creditors, the trustee will ask debtors a series of questions relating to their petition. Most of them are procedural, to ensure the debtor understands their rights under the law and that they accurately included information in their petition. Trustees may also probe further to root out any false information or intent to engage in bankruptcy fraud. Debtors are questioned under oath, but their attorneys are present and may interject to make sure their clients understand the trustee's questions.
Most meetings between the debtor and the bankruptcy trustee take between 15 and 25 minutes. Invariably, the trustee may need additional information from the debtor (or the attorney). In these instances, the meeting may be continued.
For more questions about the role of the bankruptcy trustee and what to expect in a 341 hearing, contact an experienced bankruptcy attorney.
Share Article
Need Help? Contact Us Today!