Scura, Wigfield, Heyer, Stevens & Cammarota Blog
What To Do Upon Being Sued & the Option of Bankruptcy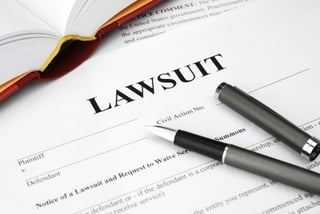 For many people, being served with a lawsuit can be a jarring experience. You may think that your wages are going to be imminently garnished and that your bank accounts will be immediately levied. However, the legal system provides you with time to evaluate your options prior to creditors being able to resort to these collection methods.
Service and Time to Answer
If you are being sued, you will have thirty-five days to answer a complaint from the time in which you are served with a complaint. It is important to note that service of a complaint is a separate action from filing the complaint; therefore, your thirty-five day period to answer the complaint does not begin upon the filing of the complaint. After thirty-five days expires, the plaintiff can then move for a default to cut off your ability to file an answer to the Complaint. Eventually, the plaintiff will request entry of default judgment after obtaining a default. At that point, you would have a judgment entered against you. Therefore, it is important that you begin evaluating your options immediately upon being served with a lawsuit.
File an Answer and Litigate
Your most basic option upon being sued is filing an answer to the complaint. In your answer, you will be addressing the allegations that have been made against you paragraph by paragraph. Each paragraph of the complaint should be met with a direct response in the answer. Additionally, you will need to include affirmative defenses, which, if proven, would bar or partially bar a recovery by the Plaintiff. The practical effect of filing an answer is that discovery begins and you formally enter the litigation.
Once the litigation commences, you will need to defend against the allegations made by the Plaintiff or prove your affirmative defenses. The standard by which a civil case must be proven is by a preponderance of the evidence, as opposed to the criminal standard of beyond a reasonable doubt. In a full blown litigation, you will need to provide discovery in the form of documents, interrogatory answers and submitting to a deposition. All these discovery tools are used to gather facts for the parties to be able to build their case. Once discovery ends, then the parties will prepare for a trial to establish facts and reach an ultimate conclusion. A litigation will either conclude with a dismissal, a settlement or a judgment.
Contact the Plaintiff to Settle
The vast majority of litigations end up being settled by the parties prior to trial. Often times, at the outset of the litigation the Plaintiff may be willing to settle at more favorable terms than they would later in the litigation. This is often due to the fact that they have not yet had to bear the brunt of litigation costs. Therefore, one option that you have upon being sued is to contact the Plaintiff or the Plaintiff's attorney to try to work out a settlement of the litigation. Settlements can be crafted however the parties would like to design them: whether it be payments over time or a lump sum figure. The courts, from a public policy perspective, encourage settlement due to the high volume of cases and burden placed on the Court if litigation is not settled. Therefore, the Court uses devices such as mediation and arbitration to try to encourage the parties toward settlement. Accordingly, the Court will go to great lengths to enforce the terms of settlement agreements.
Bankruptcy Is an Option
Another option that you have upon being sued is to file for bankruptcy. If you believe that you are unable to pay the amount that would be owed including your legal fees, then bankruptcy may be the right option for you. The debt that is the subject to the law suit generally can be discharged through a bankruptcy proceeding. If a debt is discharged, then the debt is no longer owed and the creditor cannot pursue you for the debt pursuant to federal law. However, it is important to contact an experienced bankruptcy practitioner to evaluate your options and guide you to the bankruptcy chapter that best fits your situation.
Whether you need to completely eliminate your debt through Chapter 7 bankruptcy, or need to reorganize your credit payments through Chapter 13 or Chapter 11, we are well qualified as a full-service bankruptcy law firm for people in these and other New Jersey counties: Passaic County, Hudson County, Essex County, Bergen County, Morris County, and Sussex County. Call us today at 973-870-0434 or toll free 888-412-5091.

Prior to joining Scura, Wigfield, Heyer, Stevens & Cammarota, LLP, David Sklar graduated from Rutgers University-Newark School of Law with a J.D., Cum Laude. Mr. Sklar was the recipient of a Pro Bono Award and was honored by the New Jersey Bar Association for his commitment to the Street Law Program by being awarded the Street Law Prize.
Share Article
Need Help? Contact Us Today!